HAPPY HOLIDAYS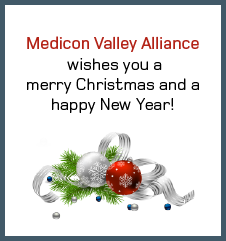 LATEST UPDATES
The right people are the key! 
Chairman of the board of MVA, Eva Östling, gives her view on the collaboration in Medicon Valley in the Swedish newspaper Sydsvenskan. "It is time to place the dynamic life science cluster, Medicon Valley, on the international map – and Medicon Valley Alliance has a key role." Read the interview here. 
I want to attract research talents from all across the world!
Read chairman of the board of MVA, Eva Östlings, vision for Medicon Valley in the latest edition of the business newspaper "Näringsliv" (cover and 1 page). What do you consider the greatst challenge for the furture of Medicon Valley? Talent attraction, attracting capital, increased bi-national policy coordination? Read the newspaper here. 
Life Science in Sweden 2015
MVA have negotiated a special offer for all members of MVA to be part of the Life Science in Sweden 2015 edition. Read more here. 
MVA EVENTS
4 February, 2015 -

08:30

to

10:00

26 February, 2015 -

15:30

to

17:30

4 June, 2015 - 09:30

to

5 June, 2015 - 15:15