3 Q&A to Managing Partner, Saurabh Mishra, Farmantra S.L.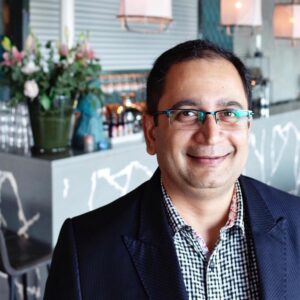 MVA-members should use the opportunity to get to know each other better. Today, we asked Managing Partner, Saurabh Mishra, from MVA member company and life science CFO service provider Farmantra S.L., three questions about the challenges facing Medicon Valley.

Q1: As a corporate finance advisor, what are in your view the key challenges facing young Medicon Valley based life science companies in the near future?
We see two challenges ahead:
1. Staying in the game – Sustenance and Survival
2. Staying invested – avoiding the temptation to exit
Let me explain what we mean. In 2018, we advised few of our clients that US market is at the top of the market cycle and there is a high probability (60/70 %) that the market could get into recession by 2020 or max by 2021. Hence, we argued that company should raise sufficient capital to sail smoothly during recessionary times.
Unfortunately, Coronavirus acted as catalyst, the markets are on free fall creating panic among all, including public and private investors and the recession came (although early) as we had predicted.
So, the first challenge that all companies including Medicon valley-based ones will face would be survival of the fittest based on the stage of the company. If you have raised enough money, you will not have worry about the funding challenge in the recessionary period and can focus on core activities.
Second challenge would be to withhold the temptation or succumb to the pressure of few shareholders to look for an early exit in the recessionary period.
Q2: Farmantra is a truly international company with global experience. What is your unique selling point and why would a young Medicon Valley based life science company reach out to you?
Our USP: Strategic advisor to the CEO and the Board than a finance controller
I think we could safely say that we are one of the early advocates of Strategic CFO services in the life sciences/Biotech world in Europe. Most of the time, CFOs are either accountants or auditors that fit perfectly in a big sized pharmaceutical or biotech giants. However, an early stage Biotech company, for example, do not need a finance controller, rather it needs a CFO with a forward-looking view and who can help the CEO to make strategic decisions that require both qualitative and quantitative metrics. A Medicon Valley based company can leverage our Strategic CFO services where we could help the CEO and the board to make decisions through the following:
• Probabilistic thinking : We see future as probability distributions rather than one single event
• Manage Risks and uncertainties: Thinking probabilistically allows us understand risks with fat tails
• Value creation: Many companies loose lot of value by giving away too early through licensing/collaborations or overcapitalizing. Depending on whether you are a platform-based company or single product company, the strategy for value creation needs to be different
• Capital structure: Maximizing value per share by having a good balance of dilutive and non-dilutive funding and make sure not to undercapitalize or overcapitalize the company
• Corporate governance: Last but not least, present to the board both financial and non-financial metrics that includes cash burn, budgeting and forecasting, managing cap tables etc
Q3: If you were to give young Medicon Valley based life science companies a piece of free advice, what would it be?
1. Raise sufficient capital early and leverage the money to reach the next inflection point faster
2. Do not get into licensing too early – keep the value of the company and
3. Most importantly have skin in the game

Print