Claes Brylle Hallqvist
Executive Vice President at Bispebjerg and Frederiksberg Hospitals , The Capital Region of Denmark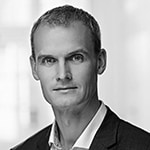 Claes Brylle Hallqvist has been Executive Vice President at Bispebjerg and Frederiksberg Hospitals since April 2010. He is a member of the board of directors for the two hospitals. He has the main responsibility for the construction of 'New Hospital and Mental Health Bispebjerg' – a highly complex 530 million Euro construction project due to be finished in 2025.
The aim for the project is to build the hospital of tomorrow. Approximately 5,500 employees will ultimately have a workplace with modern hospital functions and logistics, innovative architecture and cutting edge technologies.
Claes Brylle Hallqvist has previously been Manager of Strategic Property Development at Deloitte Denmark, and prior to this he has worked on the development and construction of several large scale building projects.
Claes Brylle Hallqvist has a degree in engineering and law.