Per Cantor
Sr. Vice President, Clinical and Non-Clinical R&D
Ferring Pharmaceuticals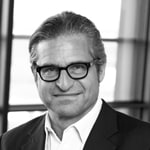 Per Cantor joined Ferring in 2006 and is responsible for global clinical and pre-clinical research based at the Ferring R&D Center in Copenhagen.
Prior to joining Ferring, Dr. Cantor held various leadership positions within R&D during a 15 year career at Eli Lilly in both Europe and the United States.
He holds a MD and a PhD/D Med Sci degree in the field of peptide hormones from the University of Copenhagen as well as a Bachelor of Commerce degree from Copenhagen Business School. He has published 50+ papers in international journals, is the co-inventor of several patents, and led major drug development programs within osteoporosis, prostate cancer, and fertility.