Sven Frøkjær
Vice-Dean / Professor
Faculty of Health and Medical Sciences, University of Copenhagen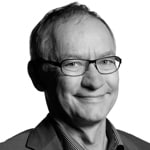 Professional Qualifications
Cand. Pharm. (M.Sc.) (1970) Ph.D., Physical Chemistry (1973) Recipient of The H.C. Ørsted Award (1970) Adjunct Professor of Pharmaceutics, Royal Danish School of Pharmacy (1991)
Current and Previous Appointments
2012 – present: Vice-Dean, Faculty of Health and Medical Sciences, University of Copenhagen
2007 – 2012: Dean,  Faculty of Pharmaceutical Sciences, University of Copenhagen
2003 – 2007: Rector, The Danish University of Pharmaceutical Sciences
1993 – present: Professor, Department of Pharmaceutics, DFU
1974 – 1993: Novo Nordisk A/S, Held various positions as research scientist, manager and director within the Novo Nordisk organization
1973 – 1974: Assistant professor, Department of Pharmaceutics, DFU
Professional Activities
1993 – 1999: Chairman of the Biopharmaceutical Section, The Danish Pharmaceutical Society
1994 – 1990: Member of the Danish Research Council for Technical Sciences, Committee on Chemistry and Fagligt forum
1996 – present: Member of the Danish Pharmacopoeia Commission
1996 – present: Member of the Drug Registration Committee, Danish Medicine Agency
1997 – 2002: Director, Centre for Drug Design and Transport
1999 – present: Member of the Danish Academy of Technical Sciences (ATV)
1999 – 2005: Member of the Danish Medical Research Council
2000 – present: Trustee of the Alfred Benzon Foundation
2002 – present: Director of Drug Research Academy
Research and Scientific Publications
Peptide and protein formulation with a special emphasis on particulate drug delivery systems, e.g. microspheres, liposomes and lipid emulsions, and peptide transport across biological membranes including carrier-mediated mechanisms (approx. 90 publications in these fields).
Editorial Boards/Editor
Section editor: European Journal of Pharmaceutical Sciences Editorial board: Pharm.Res, J. Drug Delivery Sci. Techn., and Pharmacol. & Toxicol.