Thomas Arnebrant
Prodekan
Malmö University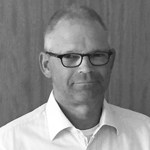 Professional qualifications
Master of science in chemical engineering at Lund University, 1982
Degree of doctor of philosophy in engineering at Lund University, Biophysical Technology, 1987 Associate professor "Oavlönad docent" in Biophysical Technology, Lund University, 1991
Current and previous appointments
Non-academic positions
Biosurface AB, Malmö (within the Pharmacia group), surface chemist, 1988-1993
Ferring AB, Malmö, Analytical Dept., Manager of Method Development Group, 1996-1998
Institute for Surface Chemistry, Stockholm, Pharmaceuticals and Food Section, Section Manager, 1999-2002
Academic positions
"Forskarassistent", Lund University, 1990-1996
Senior lecturer, Lund University, 1996
Acting professor, Dept. of Prosthetic Dentistry, Lund/Malmö University, 1996-2000
Adjunct Professor, Dept. of Prosthetic Dentistry, Malmö University, 2000-2002
Professor in Surface Chemistry, Malmö University, 2002- present
Head of research department, Biomedical Sciences, Faculty of Health and Society, Malmö University, 2007-2011
Pro Dean, Faculty of Health and Society, Malmö university, 2007- present
Professional activities
Faculty Board, Faculty of Health and Society, Malmö University, 2007- present
Research Board, Faculty of Health and Society, Malmö University 2004-, Chairman 2012- present
Director "Biofilms-Research Center for Biointerfaces", Malmö University, 2005-2007
Advisory board "Biofilms-Research Center for Biointerfaces", Malmö University 2008- present
Board of the surface and materials chemistry section at the Swedish Chemical Society, 2012-2014
Board of Nano Medicine North, 2012- present
Research and scientific publications
Professor in surface and colloid chemistry. Surface phenomena in the areas of pharmaceuticals, food, biotechnology, odontology and medicine. Interfacial behaviour of proteins.
More than 140 peer review papers in international journals + review papers and book chapters, 5 patents
Supervised 14 PhD students for doctoral degree and 9 postdoctoral researchers.
Editorial boards
Editorial board of Biofouling 2004-2008. Guest editor for Colloids and Surfaces A 2012-2013.
Awards
"Berols Nordiska forskarpris", 1987.
"Procordias Forskningsstiftelses stipendium" for pharmaceutical and food industrial development, 1990.
"Malmö Stads näringslivspris i Life Science" 2007.