Construction of European Spallation Source (ESS) campus to start in the fall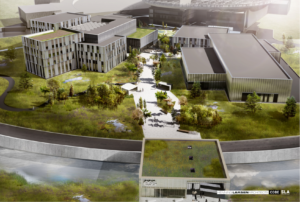 By the end of last week, agreements were signed that will allow construction of the ESS Campus to begin this fall. The campus buildings include 18 500 square metres of offices, laboratories and workshops. The ESS Campus will consist of three buildings providing 450 workspaces and 16 laboratories and workshops for maintenance, testing and development of equipment for ESS. The Campus was designed by Danish Henning Larsen Architects, COBE and SLA Architects, in close cooperation with ESS, and provides 18 500 square metres of gross floor space. 
Read full story here. 

Print