Hospital + Innovation 2017
Hospital + Innovation 2017, 10-11 October in Odense directs the focus at the role of hospitals in future healthcare, 2030. What will the hospitals do when we expand citizen-centric healthcare and treatments in the citizen's own home? How do you deliver the best service in a changeable world with stressed production and resources in the coming super-hospitals? Can personal medicine be combined with treatment for the many? And, how can hospitals handle the great opportunities offered by both genetics and data?
Time: 10-11 October, 2017.
Venue: Odense Congress Center
Registration deadline: There are limited seats. We recommend that you register right away to secure participation and accommodation.
Contact: Bogi Eliasen, be@cifs.dk. 
Register via this link to get the 20% MVA  member discount code before 15th of July.
Hospital + Innovation 2017 is an international conference, offering the opportunity to discuss updated knowledge and get new inspiration. Focus for the conference is:
The role of hospitals in 2030
Innovation in hospital design, functionality, and construction
Genetic technology and data-driven personal health in hospitals.
Target group: Decision-makers and key employees at hospitals, regions, municipalities, agencies, and ministries, as well as researchers and stakeholders from public and private companies and organisations. Participation is global, and the conference is held in English.
At Hospital + Innovation 2017, we present the result of Copenhagen Institute for Futures Studies' "Scenarios for Healthcare 2030", with a focus on the opportunities and challenges in preparing hospitals and professionals on future demands for a citizen-centric healthcare system.
Health Policy Director Erik Jylling, Danish Regions, will make a presentation on reacting to future demands and challenges. Gert Sørensen, Director at the Danish National Genome Centre, will speak about what trends in e.g. genome sequencing, genetics, and data-driven personal health that, seen from the hospitals' viewpoint, are present in the Nordic Region and internationally – and whether Denmark holds potentials here. Peter Bak shows how Humber River Hospital in Canada uses technology and design at one of the world's most modern hospitals.
For more than a decade, Danish hospitals and companies have collaborated to improve hospital logistics. The overarching goal has been to create just-in-time solutions for optimising coordination and efficiency and minimise the time patients are hospitalised. At Hospital + Innovation 2017, you can hear about varying logistics solutions at Danish hospital buildings and about other exciting projects like the 'Children's Hospital' at the Danish National Hospital.
As the recipient of this invitation, you will get the opportunity to sign up for Hospital + Innovation 2017, 10-11 October in Odense with a special discount of 20% if you register no later than 15 July 2017. Your discount is personal. Feel free to share the invitation with your colleagues.
Registration for Hospital + Innovation also gives you access to participation in WHINN.
Organized by: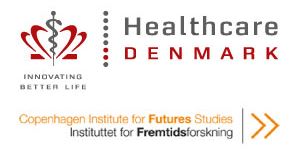 Print