Industry event: Global PV operations and oversight

Challenges maintaining a globally compliant approach across local requirements
Date: 2. May 2018
Time: 12:00 – 16:30
Venue: Rådhuspladsen 4, Rådhuspladsen 4, 1550 København V, Denmark
The event is free to attend.
About The Event
Managing pharmacovigilance (PV) across the globe is an increasingly difficult task. The role of the QPPV and associated oversight responsibilities are today multi-faceted, demanding global-local understanding and fast flow of information across HQ, affiliates and CROs/partners.
The drive for building localized legislative frameworks for PV also represent a significant workload on regulatory intelligence and legal staff of pharma companies. How are these challenges best managed? How should the division of responsibilities across global-local entities look like optimally? And where could automation be most useful?
Learn more about impact of regulations, processes and technologies to support your business. Meet colleagues from industry, understand challenges and get ideas for actions to take.
The intended target audiences are PV leaders, QPPV's, QPPV-office / Regulatory Intelligence staff, PV technology staff, Legal representatives, local operating PV represenatives and CROs
Agenda:
11:45

Networking lunch

12:30

Challenges maintaining compliant PV operations in a world of changing regulations

Welcome/event introduction

Macro-trends in the global environment and current and upcoming impacts for pharma

by Martin Holm-Petersen , CEO, Insife

12:50

Navigating global markets from a legal viewpoint

Considerations for pharma companies on global litigation risks

General Data Protection Regulation (GDPR) update

by DLA Piper

13:20

Novo Nordisk's QPPV office

Thoughts on current challenges and priorities for the future at the Novo Nordisk QPPV office

by Pilar Carrero , VP, Novo Nordisk

14:05
Break
14:20

Safety database and beyond – evolving to continuously meet global regulatory compliance

What are the learnings from the EudraVigilance rollout since November, and what can we expect with R3 in Japan from April 2019?

Configuring the safety database for GDPR compliance / good practices for site security etc.

What key changes have been introduced in the past releases of the Argus safety suite and which changes are expected in the near future?

What are the options when automating global PV? E.g. Translations, Patient support programs, market research programs, literature monitoring. social media scanning etc?

by Michael Braun-Boghos , Director, Oracle

15:20
Discussing and sharing challenges and priorities
16:00

Orchestrating processes between local and global organizational entities

Examples of where processes typically become sub-optimal due to lack of efficient technology, across stakeholders in the global business

Finding ways to replace spreadsheets and secure an effective end-to-end process

Options for automation inline in the process

by Peter Stroyer Pallesen , Director, Insife

16:30
 Meeting end
This event is held by Insife, Oracle Health Sciences and DLA Piper: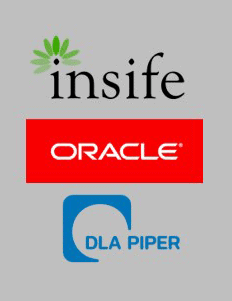 Print