Medicon Valley Alliance member, Roche Pharmaceuticals, awarded "Best place to work" in Denmark 2019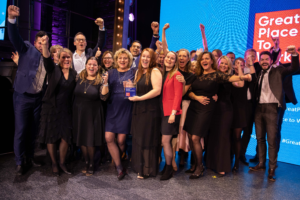 Medicon Valley Alliance would like to congratulate, Roche Pharmaceuticals, with the prestigious "Best Place to work-award" awarded by the organisation, Great Place to Work last week.  Roche Pharmaceuticals, which was the only life science company among the winners, was awarded in the category 50-499 employees. 
We decided to use the opportunity to ask Country Manager, Richard Wright, a few questions about his motivation for deciding to participate. 

Q1: Why has Roche decided to participate in GPTW?
A1: The participation in the Great Place to Work is an opportunity to ask our colleauges to tell us how they feel and how satisfied they are working for Roche. Our colleagues are the most valuable part of our organisation and so this understanding is important to us and something we have used GPTW to measure systematically in Roche Pharmaceuticals a/s since 2006
Q2: You have won this price before. What is different this time?
 
A2: That is true. Once before, we won the price as best workplace in Denmark among midsize companies (50 – 499 employees), but to win this year is even more fantastic. It happens after the most comprehensive organizational change ever in Roche Pharma as we start our transformation journey into an agile organization with a focus on bringing customer value in all we do.
Q3: What is the benefit for Roche to win?
A3: To win – again – this year in a benchmark with so many successful companies in Denmark makes us very proud. However, the true benfit comes from our continuous effort for so many years to improve wellbeing and the work environment for our colleagues, resulting in top 5 rank 13 years in a row, often as best in pharma. Internally this enables us to retain our talented employees, and externally it strengthens our employer brand and ability to attract the best talents.
Knowing that several other MVA member companies are also excellent work places, we can only encourage more members to consider joining the Great Place To Work concept. 

Print