Explainer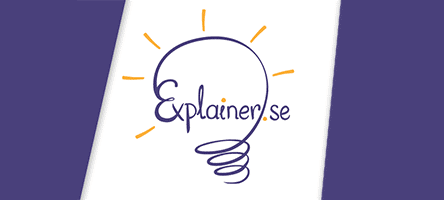 Are you interested in making an Explainer Video?
Explainer videos are part of content marketing. An Explainer video is the most popular way of introducing an idea or presenting a company for a specified target group.
We at Explainer/Yellon AB are experts at this. We have done several business to business videos in typical Explainer video style. That style is animated videos.
Why are Explainer videos so popular right now? 
Because they describe things that would take an ordinary brochure 10-12 pages to explain. It's serious material that's fun, interesting and eye-opening to watch. Additionally, it saves trees from being cut down and processed into paper and it works perfectly on websites, mobiles and other social networks.
If you want to explain your company in 90 second a 2D animation works great.
If you have an IPO och want to show an example of you process or project a 3D animation will engage the viewers in a unique way.
We have already made an Explainer video for MVA and now we want to help you communicate. Contact us for a free consultation. 
Explainer AB is Swedens largest producers of Explainer videos with office in Malmoe. Explainer videos is short interesting animations that explains solutions, products, processes and business ideas in a receptive way for the viewer. Explainer AB mainly focus on environment organisations and the life science industry. If you have something that needs to be communicated in a truthfully and interesting way, explainer videos is the way to go. 
Explainer AB does the whole process from idea to delivery within 6-8 weeks and produce both 2D and advanced 3D animations. Anything from organisation overview to advanced 3D animation of DNA strings can be made. 
As a member of Medicon Valley Alliance you get 15% discount from normal rate.
Please contact CEO Anton Ewetz +46736 369790 or email to anton.ewetz@explainer.se to know more.
See examples of Explainer videos below:
Contact
Anton Ewetz
CEO
Phone: +46736 369790
E: anton.ewetz@explainer.se
Yellon AB
Södra Förstadsgatan 2
211 43 Malmö
T: +46(0)40-10 50 40

Print