Publications
Welcome to Medicon Valley Alliance´s analysis section.
In the analysis department, we provide the evidence to the argumentation MVA presents. We are producing a number of in-house analysis, as well as collecting external material, to make sure that MVA's documentation are based on solid facts.
In this section, you will find the analysis produced at MVA, together with the documentation and background information of the various reports.
Press brief Medicon Valley Alliance Annual Meeting 2016                   
How to fund life science innovation in Medicon Valley?
Few if any other industries share the complexity of life science. The bi-national nature of the regional life science ecosystem in Greater Copenhagen, commonly known as Medicon Valley, and the combination of local, regional and national interest involved only adds to that complexity.
The aim of the qualitative and quantitative State of Medicon Valley 2016 analysis is to highlight central trends, challenges and potentials in order provide us with a common point of departure for a discussion of the future of the life science cluster, Medicon Valley. The intension with this year´s annual meeting is to bring people together and come up with credible answers to questions such as why fund life science innovation in Medicon Valley, and who should do what, when and how in order to bring the cluster closer to Medicon Valley Alliance´s vision of creating the most competitive and vital life science cluster in northern Europe.
"Although the region as such is performing well and has grown to be the strongest Nordic life science cluster, our analysis shows, that it would be a big mistake to rest on our laurels" says CEO of Medicon Valley Alliance, Petter Hartman
On the one hand, promising new initiatives such as ESS and Max IV laboratory are under way or in progress. But on the other hand growth rest with a relatively few dominant companies, which make it more vulnerable, the different development on the Danish and Swedish side respectively presents challenges as well as opportunities, and the whole idea of an integrated labour market, which is an important precondition for the idea of a regional life science cluster, is challenged by obstacles and delays resulting from border and identity control"
Why no-one would start a pharmaceutical company today?
The framework for life science innovation is identified as a key factor. If we agree, that we need to "feed the hen that lays the golden eggs", then we must identify the barriers and try to remove them.  Kåre Schultz, CEO of Lundbeck and chairman of the Danish life science growth team is quoted for the following in the interview presented in the analysis:
"The conditions, with high tax rates and overhead cost are miserable. No-one would start a pharmaceutical company in Denmark today"
Even if no-one hopefully doesn´t literally means no-one, the point raised indicates that we still have a long way to go before a position as the most competitive and vital life science cluster in northern Europe can be ensured and maintained.
"I hope today´s discussion can not only bring us a little closer to that vision, but also bring the Danish and Swedish parts of Greater Copenhagen a little closer together", says Petter Hartman.
"In the last 10-15 years, Medicon Valley has grown to be the strongest Nordic life science cluster, with the four large pharmaceutical companies Novo Nordisk, H. Lundbeck, Ferring and LEO Pharma and a number of new biotech companies. Medicon Valley is now in a period of transition with a growing number of science parks, the region's new materials research facilities MAX IV and the European Spallation Source, new investments in biological medicines and a growing number of bio tech companies. This creates new growth opportunities, at the same time as growing pressure on prices in the USA forces efficiency improvements to take place within the pharma industry, which will increase its competitive edge in the long run" says Johan Wessman, CEO of Øresundsinstituttet. 
 For additional information:

David Munis Zepernick, Head of communication and Public Affairs, Medicon Valley Alliance
tlf +45 24981668
E-mail: dz@mva.org
The analysis is conducted by Øresundsinstituttet on behalf of Medicon Valley Alliance and can be downloaded below.
State of Medicon Valley – Life science in Greater Copenhagen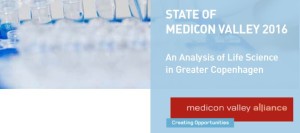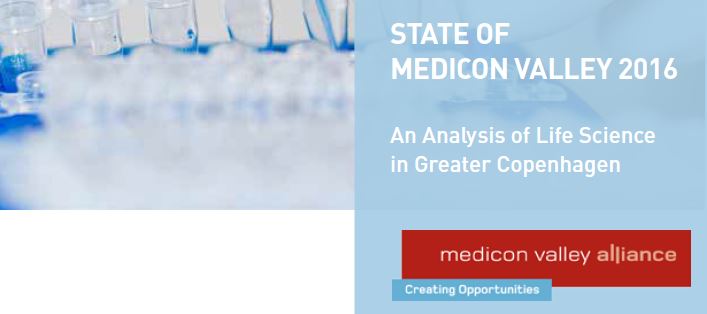 PDF-press brief Medicon Valley Alliance Annual Meeting 2016

Print