Red Cross Health Clinic for undocumented migrants
Name of project: Red Cross Health Clinic for undocumented migrants
Project manager: Vibeke Lenskjold, Red Cross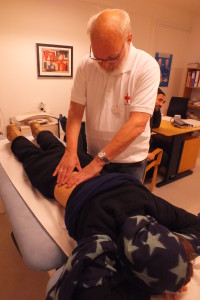 Project mission statement:
Provide health care to people without Danish registration (undocumented migrants). The Clinic (the only one in Denmark) is based on international human rights and convention – the right for all people to receive health care. The Doctors want to fulfill the Hippocratic Oath which commits to provide medical care to all people.
Project description:
The clinic is based on cooperation with Danish Medical Association, Danish Refugee Council and Red Cross in Denmark. Red Cross is full responsible to run the clinic. The clinic is the only one in Denmark – two departments, one in Copenhagen, one in Aarhus.
In Denmark the public Health system has to give acute or urgent treatment for people without Danish registration. The target group is foreign people staying in Denmark without registration. They are coming from all over the world. – mostly Africa, Asia, Eastern Europe and Middle east.
We have seen many pregnant woman, people with skin diseases, all kind of infections, problems with musculoskeletal, respiratory diseases, tooth problems, diabetes, psychiatric diseases etc. Some patients have been hospitalized. We have a good corporation with the hospitals and public health care system in the case of the emergencies.
Health Clinic for undocumented migrants offer necessary health care: doctors, midwife, physiotherapy and dentist. The health staff are all working voluntary – but they are professional health people with at least 5 years of experiences. They are all volunteers by Red Cross.
All treatment's and medicine are for free.
The clinic is only based on fundraising, donations and collections. The clinic has its own budget but as a part of Red Cross.
From 23. August 2011 to 31. December 2015 the clinic take care of more than 3200 patients, they visit the clinic more than 9800 times.
The project manager is in charge of the clinic.

Project start:
23. Of august 2011

Project location:
Copenhagen and Aarhus
Annual project budget:
2,8 mio. D.kr.
Earlier/existing sponsors/partners:
OAK Foundation, Local departments of Red Cross in Denmark
Contact info:
Vibeke Lenskjold
Project manager Red Cross
Email: vilen@rodekors.dk
Phone: +45 31716164

Project web: www.rodekors.dk/sundhedsklinik