Update from Medicon Valley Alliance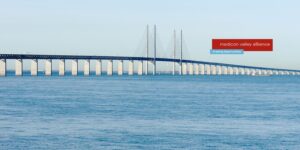 Dear Medicon Valley Alliance members, partners and stakeholders,
The coronavirus crisis has hit the world. For the time being, Medicon Valley Alliance is acting based on the advice provided by the relevant authorities and we are taking active measures to help limit the spread of the coronavirus. As a result, events scheduled for March and April have either been postponed or will be organized as webinars.
At Medicon Valley Alliance we will do our outmost to emphasize the importance of a close collaboration across the Danish-Swedish national border. A global crisis like this cannot be resolved by one region or nation alone. We are convinced that we are stronger together and that the innovation power and potential of the Medicon Valley cluster can be a valuable contribution not only to the specific crisis, but to Danish, Swedish and Nordic life science in general.
The coronavirus has exposed how fragile our globalized society is and how the lack of coordination and strategy between neighbouring countries has led to major differences in how to approach the situation. Seen from a Greater Copenhagen context, this has significantly impacted the lives of the 17 000 citizens that commute between Skåne and Zealand on a daily basis, many of whom work in the regional life science sector. To provide the region's researchers and businesses with the optimal conditions to prevent and address future pandemics, a stronger political will to foster collaborations and secure a more effective use of our common resources is needed.
While waiting for the situation to stabilize, we will be happy to use our platforms (event calendar, LinkedIn and newsletter) to share an initiative or webinar that you and/or your organisation is driving. You are also more than welcome to reach out to us with questions or ideas on how we can support you as a member of Medicon Valley Alliance during this critical time.
Although we are not physically in the office, we remain, as always, at your service. For regular updates about the Medicon Valley community, make sure to follow us on LinkedIn.
Kind regards 
Petter Hartman
CEO, Medicon Valley Alliance
P.S: Learn more about The combined European effort to Fight The Covid-19 Coronavirus in the Labiotech article here

Print