Nanomedicine is a rapidly evolving field and is of high interest to both the life science- and the nanotechnology communities. In the US this field has been supported by several large coordinated efforts, in order to for example use nanotechnology to diagnose and treat cancer or to advance biotechnology. In January nearly 30 persons from companies, universities and public organizations in south-western Scandinavia (Medicon Valley) participated in a partnering mission to North Carolina and Massachusetts organized with joint effort from Torsten Jepsen, Life Science Ambassador in Boston and Nano Connect Scandinavia.
The goal of the program was to provide the delegates with a broad overview of research initiatives and other activities in eastern US. The program not only included visits at the top universities but also visits at innovative companies and networking events hosted by nano- and biotech cluster organisations in both North Carolina and Massachusetts. Targeted drug delivery using '"immunosomes"', pulmonary vaccine delivery, new therapies for tissue regeneration, nanotoxicology and toxicological models simulating human organs (lung-on-achip or heart-on-a-chip) were some of the topics touched upon during the visit in US.
The Final Number of Cross-Atlantic Collaborations Emerging on Basis of the Mission is Yet to be Seen
However a number of valuable connections were made. One of the delegates, Thomas L. Andresen, Head of Center for Nanomedicine and Theranostics at the Technical University of Denmark, puts it this way: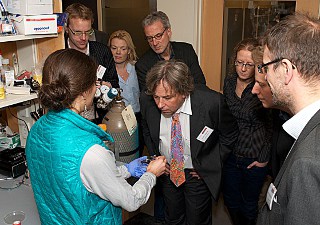 "It was a very interesting trip where we visited some of the best universities and research institutes in the U.S. We met with researchers at the highest level and several very interesting innovation communities and businesses. The life science ambassador in Boston, Torsten Jepsen, was a major factor in making these contacts. Since my return to Denmark, I have been in contact with some of the research groups we met and we are setting up cooperation, which initially aim to exchange students. In this process, I will also make use of Torsten Jepsen".
The Scandinavian delegation also visited the Wyss Institute in Boston. Nanorobots that deliver messages to specific cells in the body, DNA strands that self assemble into drug delivery devices, and microchips that mimic human organ functions were among the cutting-edge technologies shared with the delegation.
Following organisations were visited in the US:
Duke University: Biomedical Engineering
Liquidia Technologies (company)
Research Triangle Institute
Center of Innovation for Nanobiotechnology (COIN): Networking event
Harvard University Science Center: Nanoscale Science and Engineering Center
Boston University: Center for Nanoscience and Nanobiotechnology
MIT–Harvard Center of Cancer Nanotechnology Excellence
Northeastern University: School of Pharmacy
Wyss Institute for Biologically Inspired Engineering
Merrimack Pharmaceuticals (company)
Harvard Innovation Lab (iLab)) (incubator)
Massachusetts Biotechnology Council (MassBio): Networking event
[shareaholic app="share_buttons" id="15743046″]