Barnverksamheten, Röda Korsets behandlingscenter i Malmö
Name of project:
Barnverksamheten, Röda Korsets behandlingscenter i Malmö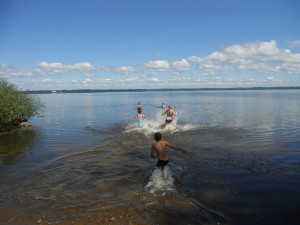 Project manager:
Elin Magnusson
Project mission statement:
By means of different activities we give children who live with families affected by migration-related stress or post-traumatic stress disorder (PTSD), a recurring experience of being seen and listened to by someone from outside their ordinary environment.
Project description:
Since 2010 the Swedish Red Cross Treatment Centre for Persons Affected by War and Torture, run support activities for children between 5 and 15 years old that have a parent/parents who are experiencing migration-related stress or suffer from PTSD. The children may also have been traumatized themselves, as a primary or secondary victim, or can be at risk of developing symptoms. The purpose of our activity groups is to strengthen these children and find things that make them feel good about themselves.
Väskornas Växthus, is a 13-week program with psycho-therapeutical features. The children´s group get together one evening each week and work on specific themes along with six adult volunteers, and at selected times a psychologist from the center. Together, the group makes their journey through the individual child's life by means of activities such as painting, games and fun exercises, starting out in the present, then the past, and then – during the last three sessions – time is devoted to dreams and their future. By talking about migration-related stress, we aim to give the children a better understanding of their own and their parents´ symptoms and to provide tools for them to better manage possible symptoms and their daily life. 
Activities for undocumented families
Parent group, during the children´s participation in group activities a parents group is held as well. Volunteers help parents practice their Swedish, help them in accessing community information and also in supporting their children.
Family support, for families who are in the need of extra support in their everyday life.
Summer camp, every summer we organize two camps, one for children and one for families.

Project start:
We started in 2010

Project finish (if any):
An ongoing activity
Project location:
Malmö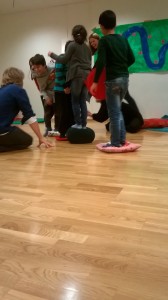 Annual project budget:
1 026 100kr
Ideal CSR partner profile:
Continuously support our activity
Partners:
Malmö stad and Region Skåne
Contact info:
Elin Magnusson
Verksamhetsledare för Barnverksamheten
Svenska Röda Korsets behandlingscenter
för krigsskadade och torterade i Malmö 
Email: elin.magnusson@redcross.se
Phone: 040 – 32 65 23
Project web:
http://www.redcross.se/rehabm
www.facebook.com/barnverksamheten/